About Dana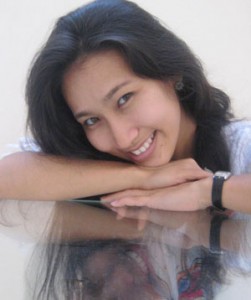 Dana Moldakhmetova was born in 1985 in Tselinograd, currently Astana. In 2001 she finished the Art School #18. Dana is a graduate in Fashion Design from the Eurasian National University named after L. N. Gumilev.
Dana is a member of the Union of Designers of the Republic of Kazakhstan and the Union of Youth Painters of Astana. She is awarded with numerous certificates and diploma.
Her first artworks Dana created in early childhood. They were hand made accessories from glass and wire. Later Dana experimented with leather, stones, knitting and she had designed a few hand bags and knapsacks. Dana's works were exhibited at various fairs in Kazakhstan and abroad.
Dana likes experimenting with different materials in graphics, visual art and decorative art. She makes design sketches, draws illustrations, produces hand made accessories and accepts orders for wall paintings. Bead-weaving and macrame are some of her hobbies.
At university Dana was an active student. Already from the first grade she was working at the Congress of creative youth of the Republic of Kazakhstan. She had established a reputation as a talented fashion designer, also as an art projects coordinator. Dana organized and coordinated first National Delphi Games in the field of visual art as well as these events:
Fashion designers competition "Student spring", Astana, 2005
IV Republic Youth Forum, Astana, 2005
First republic young fashion designers show "World of Beauty", Astana 2006
Dana combines creativity with social work. As a jury member she was invited to Taraz for young fashion designers competition "Aspara 2006".
Since April 2010 to January 2011 Dana worked in the social fund "Altyn Kun" in the capacity of fashion designer and art projects coordinator. Here Dana successfully carried out following art events:
Fashion designers competition
Young artists exhibitions
Interior designers show
Photographers show
Republic comics competition
Portfolio of Dana includes works in decorating entertainment centre "Duman" in Astana, President Palace in Turkmenistan, Ashkhabad, wall paintings at kindergartens and clubs. Her artist activity was recorded by press. Newspapers such as "Evening Astana" and "Kazakhstanskaya Pravda" have published articles about the artist. Her works can be found in private collections in Kazakhstan, Russia, South Korea, India, Denmark…